About us:
New Time Orchestra is made up by outstanding personalities of Brno & Prague pop/jazz stages. All of them are professional musicians from City Theatre of Brno, Czech Army Orchestra, Vaclav Kozel Big Band, current or former members of Gustav Brom Big Band, Bohemia Big Band and musicians playing in a number of professional bands. See our Facebook page for individual presentations of our band members.
So then, you can meet these saxophonists on our concerts:
Tomáš Hruška, Radim Hanousek, Jindřich Finda, Ivan Podhola and Marek Kotača

Trumpet section has following structure :
Jan Kozelek, Tomáš Prokop, Roman Němec and Jan Chovanec

Trombone section is made up of:
Petr Blaha, Pavel Vašíček, Pavel Novotný and Marek Scholler

And rhythm section as follows:
Petr Šupler (drums), Dušan Reichmann (bass), Miroslav Veselý (piano) and Jan Navrátil (guitar)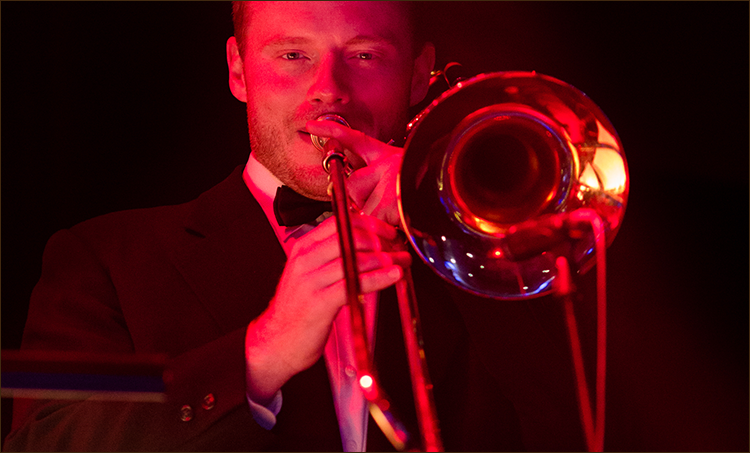 Why this all happened?
I initiated the New Time Orchestra project as I noticed short supply of similar orchestral programs on our stages. And yet, there is a big number of music themes, which can be prepared in a new, fresh and modern way. It is always a challenge to kick off and keep alive such a big music project. With this mindset, a couple of my friends joined me, and with a lot of enthusiasm helped me fulfil the mission – we created a dramaturgy plan, music arrangements, tuned up the staffing, and prepared the technical side of the project – sound and lights. I believe that the energy which was invested in the preparation will pass over to the audience and create a unique and energizing concert atmospehere. And that this atmospehere and precise treatment of all the details will enthuse not only the audience, but also our partners, whose generous contribution is indispensable for such large-scale music programs.
And that's all. Let's come and meet on concerts. Looking forward to meeting you.
Marek Scholler
---
Band leader Marek Scholler

A well-known big band player in Brno and the surroundings, playing as a regular or alternate member in various jazz/pop bands. Former student of a legendary trombone player, composer and arranger of the Gustav Brom Big Band – Mojmír Bártek.